Friday, May 8, 2009
After almost 4 hours on the road from Manila to Talisay, Batangas (this includes lunch at Grace, Sister of Rose, Restaurant), we arrived at Club Balai Isabel. On our arrival, we were greeted by the mass of guests staying at this fully booked resort and a number of courteous (and not so courteous) staff. I immediately explored the resort grounds with my son, David.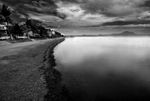 The resort is nestled by the shores of Taal lake with a good view of the Taal Volcano Island and the 'false' Taal Volcano. (False, because a great number of Filipinos think that this smaller volcano shaped isle is the Taal Volcano). The resort has a beach with a long stretch of construction grade sand on a somewhat cloudy freshwater lake with lots of vegetation. Although, the resort does not recommend swimming in this lake, it has a number of beautiful swimming pools for kids and adults.
On our first day, we immediately went for the pool after settling the rooms. I stayed with the family swimming until sunset came. There wasn't any sunset though, due to the thick gray clouds, but I was still able to capture some nice images of the lake. After dinner, we wandered the resort grounds and, as my son calls it, go places. We discovered a large park on the other side of the resort with a large green, lots of mango trees, swings and hammocks. The place really looked nice and inviting. We capped the night away chasing frogs.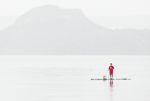 The next day I woke up at 5 am, as is my tradition, and took quite a number of pictures of some men fishing. There was no visible sunrise, again due to the cloudy skies. I went back to bed at 6 am and woke up at 9 for breakfast. We had another typical vacation day where we ate, swam, ate, then swam again.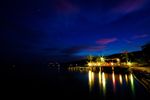 At dusk, I retreated to a small ledge by the lake and sat there waiting for the sunset and looking at the kingfishers diving in the water. I took some very nice long shutter images of the resort's pier/picnic area, which I will submit to dpchallenge for the light theme challenge. We had dinner after, took some more night shots, and then stayed in the 4th floor balcony with my laptop, under the moonlight, listening to John Mayer songs and started writing this blog. I can say this is one of the most relaxing vacation I've had.
On Sunday, our last day, was the scheduled fight of Pacquiao vs. Hatton. Balai Isabel set up a large TV screen in one of its function rooms for everyone to gather and watch the fight on pay-per-view. They charged us 250 pesos each but the room was packed. Maybe about 100 to 150 people. Imagine how much the resort made on this event. Everyone was so ecstatic when Pacquiao finally dropped Hatton on the 2nd round, it was pure utter chaos!!! Watch this video of the place.
After the fight, we had our buffet lunch and packed up and went on our way.
Review
The place is very new and very clean although the construction grade sand on the beach was a real turn off. Just walking on it with wet feet and slippers is agonizing. The rooms are nice. Beds are still firm, pillows are nice and comfy. There were some insects though on the ceiling right on top of one of the extra beds, so it was unusable as the insects occasionally fall onto that bed. The room we rented, at P6,000 per night, has a loft, a kitchen with an electric stove, a fridge, 3 queen-sized bed and 2 double-sized bed. That room could fit about 10 people comfortably. Great for barkadas and families.
There are a lot of things to do on the resort. It has a large twin pool, adult and kiddy, just beside the resort's restaurant, plus 2 more pools on the other side of the resort. It has a couple of billiard tables, darts, playground, a basketball court and a tennis court, which I just found out on our last day. The lake, as the resort suggests, isn't for swimming, but I could see some people water-skiing and wiping out, so it isn't really unswimmable. You can also rent a kayak to explore the lake further.
About the personnel, some of the personnel were not very courteous and not well-trained. There was an instance where only 3 tables were occupied on the restaurant and the waiters were confused on what they were supposed to do. We had to wait 20 minutes for our food. On the pool, we asked for beach towels and we were referred to the front desk which then told us to just use the room towels and then the next day we saw some personnel distributing beach towels. This was so much different from our experience in Caylabne Bay Resort. And the food wasn't very good as well. There were lots of choices in the menu, but half of it isn't available. So you'll be forced to order buffet, which isn't very inticing either.
Overall, our stay was fun and very very relaxing. And now, back to reality.
View photos of the place here: Club Balai Isabel Photos
29 Comments
aja
hi.. nice blog! may i just ask u if der are any rules in the resort wherein guests are required to wear bathing suits? thanks!
May 19, 2009, 11:57 pm
Marcel
Hi Aja. Yes there is. You'll need to wear proper swimming attire. But you can always wear those bathing shirts that cover the whole body. I even saw long sleeved bathing shirts. And the lifeguards are very active on duty.
May 20, 2009, 10:05 am
madz
Is it worth the 4 hours travel?
May 26, 2009, 4:00 pm
Marcel
Actually, that 4 hours include 2 hours stopover. It really isn't that far, if there is no traffic, you could get there in an hour and a half.
Yeah, definitely worth the travel, very relaxing place.
May 26, 2009, 6:31 pm
Rhea Lao
hello marcel.I like your blog. :) hope you can also take nice pictures of me and my son -- of course, take pics of my students too.Thanks!!! see you next week.
June 6, 2009, 4:57 pm
Lurker
Hello Marcel! Keep writing. We missed your blog. Club Balai Isabel looks fantastic. What do you think of the service?
June 12, 2009, 1:19 pm
Marcel
Hey Lurker! Nope, not too fond of the service. We had a few bad experiences with the service while we were there. It could be just bad luck. Although, everything else is nice.
June 14, 2009, 8:56 pm
pert ilagan
hi, nice pics and i am planning to bring my family there. do you mind giving the resort contacts? thank you.
June 23, 2009, 11:58 am
Marcel
I believe their websites are: http://www.balaiisabel.com.ph/, http://www.balaiisabel.com/ and http://balaiisabel.multiply.com/.
Cheers!
June 24, 2009, 10:58 am
Mavic
Your pictures are very nice! My family (with 3 kids) are going to Balai Isabel to celebrate New Year's day there. However, I saw the bad reviews on TripAdvisor....now I'm scared. As a mom, would you recommend this place? I'd appreciate your advise. Thanks
December 23, 2009, 2:36 pm
sha
we're going there too this january but the tripadvsor reviews sort of discouraged me. Is the place clean and well maintained? My mom has some cleanliness issues
December 29, 2009, 11:37 pm
Marcel
Hi Sha. Yes, the place is clean and the rooms are still new. Although we had a small problem about insects inside the room but nothing to be discouraged about. Place is very well maintained and there are a lot of things you can do there. Post your experience here when you get back from your vacation. Thanks!!!
January 4, 2010, 10:53 am
Isabel
Your photos are great! What can you do in Balai Isabel?
August 24, 2010, 11:04 am
Kristine
Hi Marcel!
Thanks so much for your wonderful pictures of the place. We've been overhauling our service and amenities lately, and we feel that it's going well. We'd like to invite you to come back soon! By the end of October, we'll have a new chapel and a bigger pool as well.
As for things to do around the resort, there's always kayaking, or learning to sail with the Taal Yacht Club, beach volleyball, basketball, billiards, karaoke and such. We're working on more activities soon, so we are quite open to suggestion.
I hope you don't mind me replying to your blog, we're trying to monitor customer satisfaction online and always always trying to improve our service. You have absolutely beautiful pictures, and I'd like to invite you to join our Photo Contest. More details on http://balaiisabel.tumblr.com or visit facebook.com/ClubBalaiIsabel for updates.
Cheers!
October 12, 2010, 2:51 pm
Marcel
Hi Kristine!
I don't mind at all! In fact, I appreciate your reply.
Since you are asking for suggestions, I would like to suggest adding a Ping pong table to the resort. haha!
Yes, I will join the contest, I just hope my pictures are good enough or I just hope I have enough facebook friends. Hehe.
Thanks!!!
October 12, 2010, 3:48 pm
Kristine
Noted, Marcel. Thanks for the suggestions and the beautiful pictures! Good luck! :)
October 15, 2010, 12:02 pm
xyra
hi,
how's the rate naman ng restaurant nila
September 7, 2011, 3:11 am
Marcel
Hi Xyra. Well, it's not over-priced if that's what you're asking. It's just that, I'm not too keen with the service. Well, at least at that time. I don't know nowadays, maybe the personnel are more trained. The food is just alright, typical filipino.
September 7, 2011, 9:49 am
Charlie
Hi Marcel,
I like your blog, very imformative and the pictures are reeally good, pang contest talaga. My family will be going to Balai Isabel this May 02, just for a night. I hope there services have improved already.
April 19, 2012, 3:57 pm
Marcel
Hi Charlie. Thanks! Enjoy your stay! I'm sure it's much much better now with Ms. Kristine on the job. Cheers!
April 19, 2012, 5:44 pm
QuincyHelton
I see your site needs some unique & fresh articles. Writing manually is time consuming, but there is solution for this.
Just search for: Masquro's strategies
March 8, 2017, 1:46 am
stare przepisy kulinarne
Very good website - bookmarked
April 26, 2017, 6:25 am
instacart coupon
My programmer is trying to persuade me to move to .net from PHP.
I have always disliked the idea because of the expenses.
But he's tryiong none the less. I've been using Movable-type on a number of websites for
about a year and am anxious about switching to another platform.
I have heard fantastic things about blogengine.net. Is there a way I can import all my wordpress posts into it?
Any kind of help would be really appreciated!
August 27, 2017, 8:51 am
instacart coupon 2017
Heya i am for the primary time here. I found this board and I in finding It really
helpful & it helped me out a lot. I hope to provide something
again and help others like you aided me.
August 27, 2017, 10:01 am
http://tinyurl.com/y7naxbxs
Excellent post. I was checking constantly this blog and I am impressed!
Very helpful info specially the last part :) I care for such information much.
I was seeking this particular information for a long time.
Thank you and good luck.
August 28, 2017, 12:37 am
tinyurl.com
What you said made a bunch of sense. But, what about this?
what if you added a little content? I am not suggesting your content is not good., however suppose you added a title that makes people desire
more? I mean Club Balai Isabel :: SingleShutter.com is kinda
boring. You should peek at Yahoo's home page and note how they create post
headlines to grab viewers to open the links.
You might add a video or a related picture or two to grab people excited about
everything've written. Just my opinion, it could bring your posts a little bit more interesting.
August 28, 2017, 7:27 am
instacart coupon 2017
Hey there! Quick question that's entirely off topic.
Do you know how to make your site mobile friendly? My website looks weird when viewing from my iphone.
I'm trying to find a template or plugin that might be able to fix this problem.
If you have any recommendations, please share. Thanks!
August 28, 2017, 6:57 pm